Of the ten music videos that got the most views in their first 24 hours on YouTube, nine are from K-pop acts: There's five BTS videos on the list, three Blackpink videos, and one video from Blackpink member Lisa. How have K-pop artists managed to have such big YouTube debuts? To answer that question, you'll have to ask the audience — and read the sophisticated streaming playbook one fan group has put together.
That group is the Blinks, the catch-all name for Blackpink's fandom. When the formidable foursome — Jisoo, Jennie, Rosé, and Lisa — released the music video for 'Pink Venom,' the Blinks wanted to make sure that the group's first single in two years made a splash. That's exactly what happened.
'Pink Venom' soared to the top of the charts on YouTube and Spotify while bringing Blackpink to an unprecedented position in our Global Top 50 chart. The single got 90 million YouTube views in its first 24 hours of activity. That was the most 24-hour YouTube traffic ever received by a Blackpink single, and only two English-language BTS music videos ('Dynamite' and 'Butter') have ever gotten more first-day YouTube views.
Subscribe to get the latest creator news
The success of 'Pink Venom' was a coordinated effort by Blackpink diehards. A recent Vulture profile of the group's fandom highlighted the strategies Blinks used to build up such impressive numbers. They kept tabs on YouTube's policy pages, reached out to platform insiders on Twitter, and investigated the mysterious YouTube algorithm.
Their practices sound similar to what goes on at creator-facing companies and influencer marketing firms, but these aren't industry professionals — they're people around the world who use pseudonyms like W and Ash. "It depends on the leadership of the fandom to stay on top of the streaming rules," W told Venture.
If you want to see how analytical and detail-oriented the Blinks are, take a look at the list of dos and don'ts the fandom compiled. The guide includes 25 steps that can help Blackpink get as much YouTube viewership as possible. There are also an equal number of warnings about behaviors that could run afoul of the platform's streaming rules or discredit individual views. A similar list exists for Spotify as well.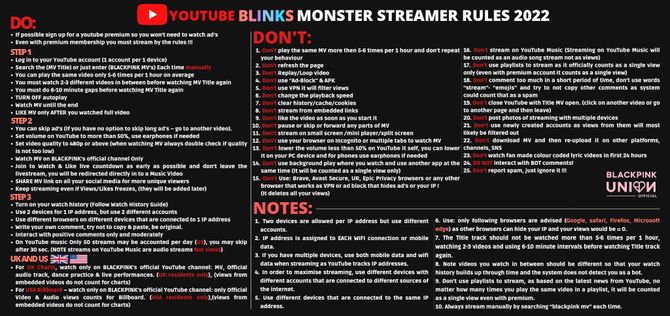 You might think that YouTube is not happy with a group that openly manipulates and stretches policies in order to ensure record-breaking viewership. On the contrary, the Google-owned platform caters to the Blinks by turning Blackpink music video releases into tentpole events. The K-pop outfit's 2020 single 'Lovesick Girls' helped kick off a YouTube web series called Released. For 'Pink Venom,' YouTube seized an opportunity to advertize its Shorts platform. It launched the #PinkVenomChallenge, which led to about 750,000 new short-form videos, per Vulture.
As of this post, another Blackpink song sits at the top of YouTube's music charts, but don't expect 'Shut Down' to be the last record-breaking music video from the dominant girl group. Now that BTS is on hiatus, the Blinks are eager to prove that Blackpink is the biggest K-pop act of right now. They're making a pretty good case.